"...the most dangerous person here is the one who has nothing to lose. Now look at yourself."
- Tasia O'Shea in Blood Tied
Tasia O'Shea (born Tasia Deborah O'Shea on October 13th, 1985 in Cork, Ireland) is a 31 year old woman who is living in Manhattan, New York working at the Iron Heart Distillery, as well as being an honorably discharged soldier from the Irish Defense Force.
She is the wife and 'Mob Mother' to Jack Ronan, who is the boss to notorious Irish Mob respectively called the Ronan's in New York City, as well as being the step-mother to Eileen and Mary Ronan. She is also the younger sister to Jack's right hand man, Sean O'Shea.
She is portrayed by Natalie Dormer.
Biography
Edit
Early Life
Edit
Tasia was born in Cork, Ireland to her mother Renee McLaughlin and an unknown father. Alongside her mother and brother she had to grow up fairly young due to the poverty that plagued the small, single parent family by being forced to work as early as possible. Her older brother had gotten into a rough crowd that lead him into getting involved with the Murphy Mob in Cork, and with her mother now fearful of her daughters life she forced Tasia to enlist in the Defense Force so that it would take her out of the life she would be destined for.
At 17 she dropped out of high school and enlisted in the Irish Army. She spent majority of her twenties working as a peacekeeper being deployed in Cyprus, Egypt and Belfast. Towards the end of her military career she was involved in a terror attack where she ultimately saved many lives but almost lost her own. The force had no choice but to discharge her as her injuries left her unable to work as she once did, and she was sent back to Cork with her mother.
Her brother, Sean was still at home and no longer running with the Murphy's but instead was transferred to another family who were situated out in New York City. Tasia begged her brother to take her because she did not want to be stuck in Cork for the rest of her life and he obliged.
For a while she was able to get by on her own working at a local mechanic shop, until one day her brother introduces his boss, Jack to her and he immediately took a liking to her.
Blood Tied
Edit
We meet Tasia far into the first book, where we find her as a demanding, confident diva like person alongside her husband, Jack. On first impressions it's obvious to see that she has sunken into the role of 'Mob Mother' seamlessly, and is rather good at it too.
Blood Tied: Reckoning
Edit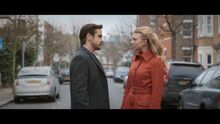 Surprisingly we find that Tasia is affected by Larissa Carleone's kidnapping that she too begins her own search.
Blood Tied Retribution
Edit
Physical Appearance
Edit
Personality
Edit